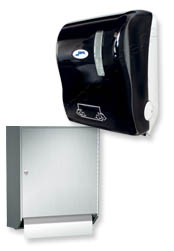 The term "mechanical paper towel dispenser" can sometimes be a confusing one. While many paper towel dispensers at our mechanical in nature, the term mechanical paper towel dispenser is referring to a very specific type of dispenser.

A mechanical paper towel dispenser is a paper towel dispenser that is activated by pulling the paper towels in the unit downward, which would technically make this type of paper towel dispenser automatic. Once the paper towel has been pulled to a specified length, the unit that automatically cuts the paper towel. This allows for the user to get the same amount of paper towel every time, helping to eliminate waste and excessive use. These units allow for effortless hands-free dispensing with a very low pull force.
The unique thing about this type of paper towel dispenser is that is powered by the user. The effort that the user exerts to pull the paper towel out of the dispenser is used to power the cutting device. This means that there is no need for batteries or any other external power source.

Mechanical paper towel dispensers most often use the standard size of paper towel rolls and distribute approximately 11 inches of paper with each use. Attractive streamline exteriors, no batteries to replace an easy maintenance make the mechanical auto cut paper towel dispensers and attractive choice for many establishments.