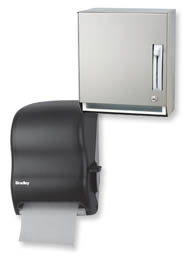 Lever operated paper towel dispensers have been considered a standard in restrooms for decades. No doubt you've seen these models throughout your lifetime as permanent fixtures in public restrooms. They operate as the name implies, pull or push the lever and the unit distributes paper towels. One of the advantages to this type of paper towel dispenser is that it requires no additional power to operate. The lever paper towel dispenser requires only the manual effort of the user to dispense the paper towels. This eliminates the need for batteries or any other external source of power.

Due to the lack of sensors and additional power, lever paper towel dispensers have been proven over time to be very durable and can stand the test of time. This is especially true with the stainless steel dispensers, the stainless steel fabrication eliminates rust and corrosion, which is great for any area that has moisture.
Here are some of the great lever powered paper towel dispensers we offer:
Lever paper towel dispensers are often designed to accommodate many different brands of paper towels. The only disadvantage of the lever paper towel dispenser is the fact that it has to be touched by the user in order to function. Many establishments are starting to phase out the lever paper towel dispensers for units that require no touching to operate. This helps to cut down on the spread of bacteria and germs that can commonly be found in public areas.

Even though many establishments no longer use this paper towel dispenser type, there are certain situations that have great advantages to installing lever paper towel dispensers. Some of the ideal locations for this type of dispenser are areas that are high-traffic, vandal prone or perhaps a distant locale. Any area that is exposed to outdoor elements will also be an ideal setting for a lever powered paper towel dispenser.