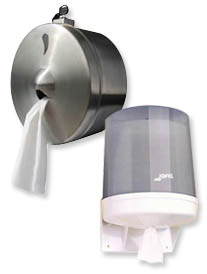 Center Pull Paper Towel Dispensers are basically with the name implies. They are dispensers that allow the paper towel to be pulled from the center of the unit. These types of dispensers are commonly cylindrical in shape, and are most often made from plastics. These types of paper towel dispensers often are designed to work with almost any brand of paper towel rolls. Another common feature is a locking mechanism that ensures that the unused towels in the unit will remain dry and protected.

A center pull paper towel dispenser can be a great option for your restroom or establish for a number of reasons. The Center pull paper towel dispenser holds a large amount of paper towels, the advantage is that it has to be refilled less often than other types of dispensers.
Here are some of the great C-fold paper towel dispensers we offer:
A center pull paper towel dispenser is also touchless. This means that people are able to get their paper towels without actually touching the surface of dispenser. This greatly helps in avoiding the spread of bacteria and germs in your establishment.

Yet another advantage to the center pull type of paper towel dispenser is the affordable price. For a very reasonable price you can furnish your establishment with center pull paper towel dispensers that are attractive, rugged and long-lasting.